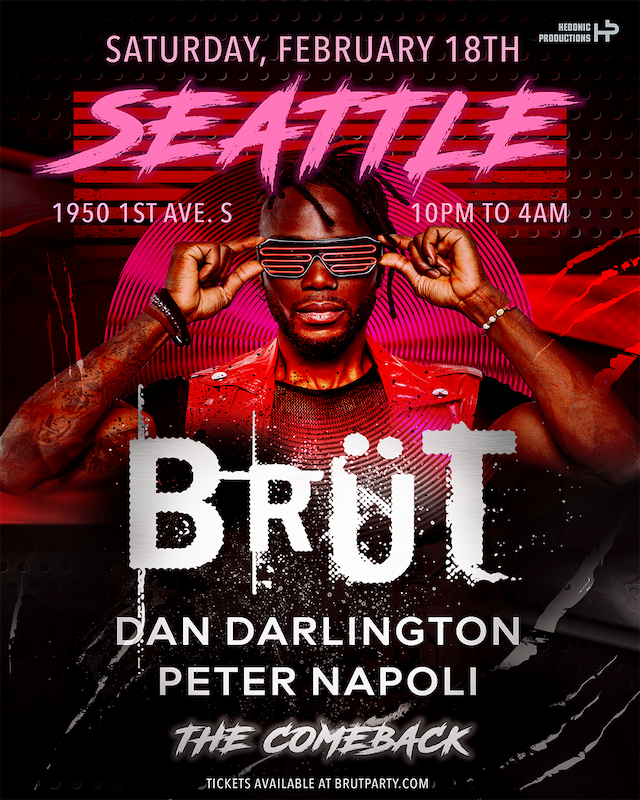 Address :
1950 1st Ave South Seattle, WA 98134
BRÜT Party – Seattle
Seattle
GET READY SEATTLE! BRÜT Party – Seattle The country's LARGEST underground gear party is finally BACK and taking you back to its ROOTS!! We have the ORIGINAL BRÜT DJ LINE UP!!!.
The BRÜT team is excited to announce our Seattle Sophomore Event. Coming to the Newest club on the block, The Comeback, with over 9000 Sq Ft, Huge Dance Floors, 2 Bars, a front patio, a state-of-the-art Sound system, easy endless parking.  One of few spaces left owned by and FOR the LGBTQ+ community & Allies.
BRÜT WILL SUPPLY the perfect hunting ground of a dark DIRTY dance floor, OVER THE TOP set design, lights and lasers, the most INCREDIBLE underground house music, and some of the HOTTEST man meat in Seattle. Revelers are encouraged to wear their most provocative, most alluring, sexiest self. Get out your gear and let your PRIMAL side rule as we release you to the wolves, bears, and otters.
DJ DAN DARLINGTON, Brüt Party founder and resident DJ brings his energetic style that has made this brand famous worldwide. His instinctual understanding of music's power and his ability to drive the night with a wide range of vocal tribal, progressive and tech-house will keep you living your best life till the very end of the night.
DJ Peter Napoli also a Founder of the Brüt Party is back to create the feel of the ORIGINAL NEW YORK Brüt party. His pulsating beat reigns over packed dance floors filled with sweaty bodies. Napoli's sound is an evolution from the Electronic scene of decades past, to a future built on an array of percussion.
If you want to have all the updates for this event subscribe here or follow the event on facebook here
Djs:
Peter Napoli
Dan Darlington
Doors at 10pm – 4am
The Comeback
1950 1st Ave South Seattle, WA 98134