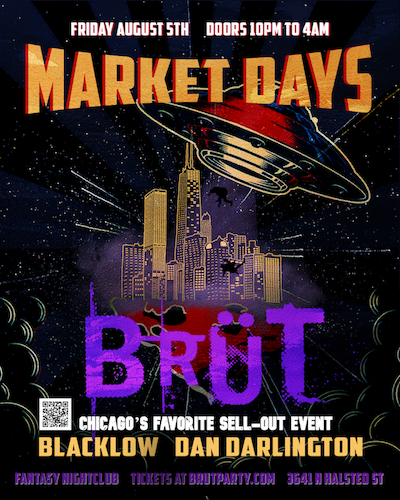 Address :
3641 N Halsted Street
BRÜT Party – Market Days Chicago
BRÜT Party – Market Days Chicago!
Get ready for the Chicago's favorite Sell-Out event right in BOYSTOWN for Market Days!
The BRÜT party – Market Days Chicago! Favorite Sell-Out event in the state is excited to kick off the biggest gay summer festival weekend in Chicago, Market Days. Back to our naughty seedy haunts at Fantasy Night Club, we will not only be the closest party happening to the festival (Right in Boystown), but we will also be the sexiest and most satisfying!
ALIENS ATTACK!!!! We are being invaded by MARS. And on MARKET DAYS no less. They must have been watching us closely to know our streets would be packed that weekend. They are cunning and hyperintelligent. It has also been learned; they walk among us. So do not be fooled and trust no one!!!
We are ready for you to board this sci-fi BRÜT MOTHER-SHIP as we take it to the skies to defend our sexual liberation against these suppressing ALIEN invaders. Our very way of life is threatened as they attempt to take away our HOUSE MUSIC and dancing. We must hit them with EVERYTHING we got! Huge Production, Lights, Lasers, Underground Vocal Tech House Music, and the SEXIEST Go-Go Dancers in the state!! We are right on HALSTED STREET, so our venue is the best suited to protect the people, and we must be victorious!
With resident DJ Dan Darlington who stole the show during IML bringing some heavenly bodies and debuting at the BRÜT Party DJ Blacklow who puts Mo' back into cosmos. HOUSE MUSIC will once again rule the night at BRÜT.
Djs:
Blacklow AND Dan Darlington
Fantasy Night Club
3641 N Halsted Street
Friday August 5th, 2022
Doors 10pm-4am
Click here to get Tickets!
VIP Ticket Include:
– Express priority entrance.
– Free VIP Clothes Check.
– Access To DARK VIP Room with its own Bar.
– Complimentary Fruit and Snacks.
– VIP Bathroom.