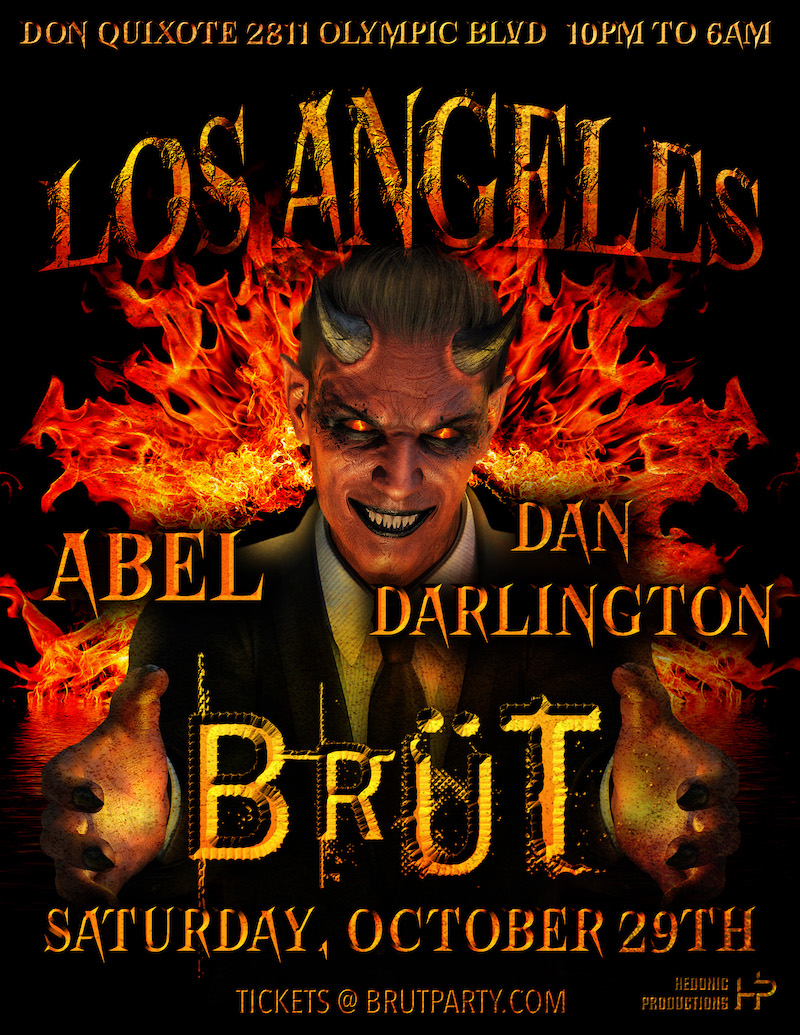 Address :
2811 E Olympic Blvd.
Brüt Party- LA Halloween
Don Quixote
BRÜT Party – LA Halloween Saturday 10PM TO 6AM.
BRÜT returns to Los Angeles with its anticipated SELL OUT LA Halloween event at Don Quixote, one of the Sexiest venues to emancipate your hunger. Release your body, your mouth, and your soul to taste the trickle of men that tempt you at every turn. Escape your confines and dance with demons.
TO THE UNRIGHTEOUS: BEHOLD! For one night, the wicked will cruise the earth. Plucked from the fiery depths of Lust, the Incubus are released, Seeking dominion over your untapped desires. Welcome to the Devil's playground.
DJ's Dan Darlington and Abel will render your body defenseless as you thrust deeper into the covenant of the seductive. Let their siren songs possess you and consume your soul.
Do we have a deal? Sign the dotted line and give us what is ours. Have a night of pleasure, pain, and ecstasy……..
Come out and play. Don't be afraid of what waits in the dark.
Saturday October 29th
Doors at 10pm-6am
Don Quixote
2811 E. Olympic Blvd.
DJ's:
Dan Darlington
Abel
Get tickets here!
Click here to see More upcoming events!