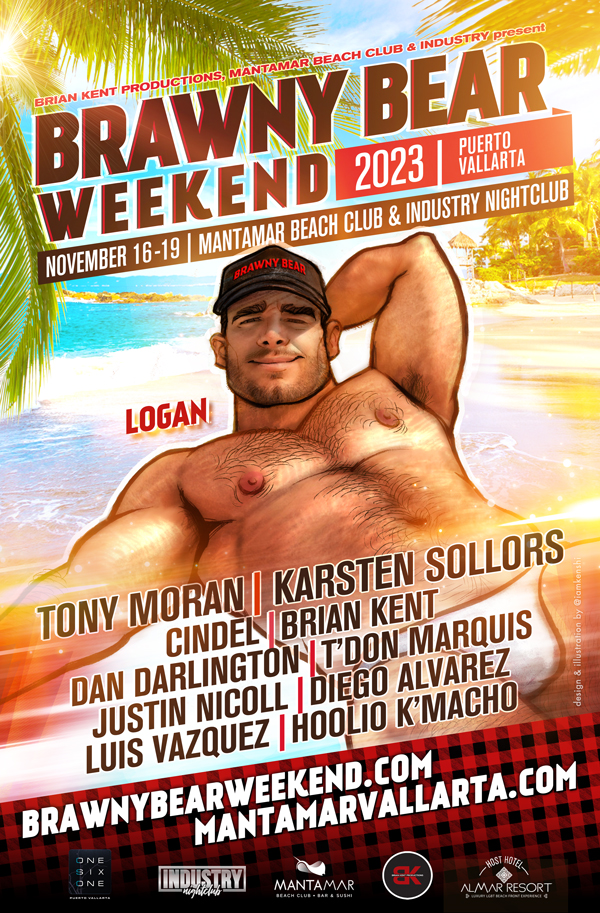 Brawny Bear Weekend 2023 – Puerto Vallarta
Get ready to kick off American Thanksgiving Week once again….
Back in our fourth year, Brian Kent Productions, Mantamar Beach Club and Industry Nightclub join forces to bring you an epic WEEKEND you won't soon forget!
Experience BRAWNY BEAR WEEKEND 2023 spanning over FOUR DAYS and featuring TEN international DJs at TWO stunning venues with our NEWEST SUNSET TEA DANCE ON THE BEACH featuring Tony Moran! Prepare yourself for mind blowing sunsets, amazing music, bears of all shapes, colors and sizes and lazing on the dazzling sandy beaches.
MANTAMAR BEACH CLUB will host all four daytime pool events. It's a sophisticated and trendy beach club located in one of the most famous gay destinations in the world. Immerse yourself in a vibrant oasis of energy with an atmosphere full of classic daytime T-Dance music by DJ'S KARSTEN SOLLORS, TONY MORAN, CINDEL, DAN DARLINGTON,  T'DON MARQUIS,  JUSTIN NICOLL, BRIAN KENT, LUIS VAZQUEZ HOOLIO K'MACHO and DIEGO ALVAREZ!!
Friday, Saturday and Sunday Nights we go to the newly remodeled and biggest gay nightclub in Puerto Vallarta, INDUSTRY NIGHTCLUB! Boasting gigantic LED screens, a state of the art sound system and a chill lounge, INDUSTRY is one of the hottest venues around. Club goers travel to events around the world to experience the seductive beats and music of DJ KARSTEN SOLLORS, CINDEL and BRIAN KENT….a truly stellar line up that will keep us going till dawn.
It's also Brian Kent's birthday celebration which is sure to add laughs to the whole weekend!!
Join us for an exciting weekend of new friends, old friends and lots of fun!